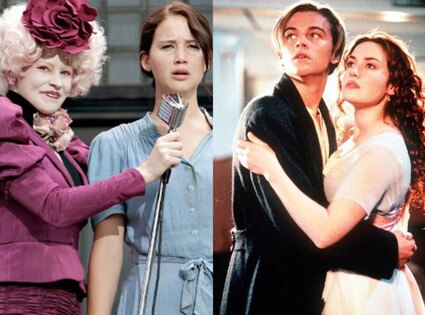 The Hunger Games
stays on top of the box-office 3 weeks in a row, sinking new competitors such as the 3D re-release of the 1997's
"Titanic"
and the 8th installment of the
American Pie
film series, "
American Reunion
." Read the report from
TheWrap
:
"The Hunger Games" remained the No. 1 movie in North America for the third weekend in a row, beating Universal's new comedy "American Reunion" and clobbering the 3D re-release of "Titanic."
In its third weekend of release, Lionsgate's PG-13 "The Hunger Games" grossed $33.5 million. The R-rated "American Reunion," the latest in Universal's successful "American Pie" franchise, opened to a respectable $21.5 million. And the 3D rerelease of "Titanic," the PG-13 blockbuster first released in 1997, took $17.4 million.
The weekend pushed "The Hunger Games" over the $300 million mark domestically. The movie, still showing at 4,137 domestic locations, now has grossed $302.8 million. Lionsgate said the film added another $25.f million overseas this week, raising its international total to $157.1 million and its overall global take to $460 million.
Meanwhile,
The Hunger Games
has also eclipsed ALL of the
Twilight
movies' domestic gross, as reported by
LA Times.
"The Hunger Games"surpassed the $300-million milestone at the box office over the weekend, making the film more popular with American moviegoers than any of the "Twilight" installments.
The movie has collected $302.8 million in the U.S. and Canada alone; the highest domestic gross for a "Twilight" film was November's "Breaking Dawn — Part 1," which sold $300.5-million worth of tickets by the end of its run.
Way to go Hunger Gamers! How many times have you guys seen the movie?