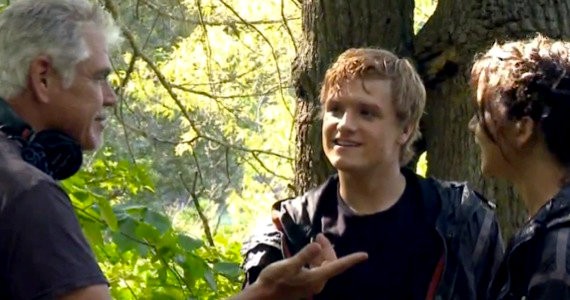 Here's an interesting news. According to
The Hollywood Reporter

,
unlike
The Hunger Games
trio
Jennifer Lawrence
,
Josh Hutcherson
and
Liam Hemsworth
, Director
Gary Ross
is still not signed for sequels. Apparently, Lionsgate is still up to complete negotiations with him about taking on Catching Fire. Read the report below:
Now that The Hunger Games is a hit with more than $363 million in the till, the question is whether writer-director Gary Ross will return for the next installment in the lucrative Lionsgate franchise.
Unlike stars Jennifer Lawrence, Josh Hutcherson and Liam Hemsworth, Ross is not signed for a sequel. And negotiations for him to do the first movie were "a terrible experience," says a source with knowledge of the discussions, because Ross is a seasoned filmmaker (Pleasantville, Seabiscuit) and Lionsgate isn't accustomed to paying seasoned-filmmaker fees. He ended up taking a relatively low $3 million to write (with Billy Ray and novelist Suzanne Collins) and direct. But he will collect a very remunerative 5 percent of backend.
Sources say Ross, 55, would like a significant raise for a secondHunger Games, but Lionsgate didn't kick off negotiations with him until about three weeks before the first film's March 23 opening. By then, with tracking suggesting a huge opening weekend, Ross and his CAA reps were in no hurry to bargain.
Lionsgate has a script from Simon Beaufoy (Slumdog Millionaire) that Ross has yet to revise. The studio is in a rush to start the next film in the fall, though Fox might upset Lionsgate's plan by exercising its option on Lawrence to start another X-Men movie first. (Fox's option would trump Lionsgate's hold on Lawrence, say sources.) Adding urgency: Lionsgate already has booked a November 2013 release for Hunger Games: Catching Fire.

I hope settlements and negotiations about this matter are done soon. I would be very upset if Gary Ross decides not to come back for Catching Fire. What do you guys think?


Read the entire article from THR

here.